The Apple ProRes are a family of compressors-decompressor created by Apple. There are intended for Post-Prod. But the because of the high quality, they are know used during filming, archiving and broadcasting.
Characteristics
They share these characteristics :
Exists in Quicktime and MXF files
Compression is spatial only (easier to decode) with a variable bitrate (VBR).

Faster multiprocessor (de)compression

faster decompression at ½ and ¼

definition.

Handle infra-black and super white
5K, 4K, 2K, HD and SD with any frequency or interlacing known.
Please note that ProRes 422 (HQ/standard/LT/proxy) have a 4:2:2 chromatic sub-sampling and a 10 bits depth (1 Billon colors).
On the opposit, ProRes 4444 standard/(XQ) doesnt have any chromatic sub-sampling. Color has the same definition than the luminance. The depth is 12 bits (64 billons of color shades), and they handle an "alpha layer" in 16 bits (transparency of 65536 shades) uncompressed.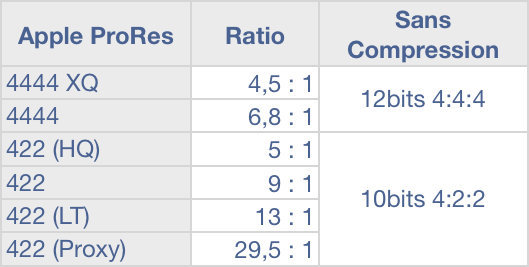 Apple ProRes 4444 XQ becomes the référence codec for post prod files – digital intermediate. The volume is huge, but it is nothing compared to an uncompressed for almost the same quality.
Bitrates